We all know that going out of the country can be kind of a hassle, and sometimes the funds are more appropriate for domestic travel for Spring Break. But don't be fooled, just because you're not on a semi-private island somewhere in the Bahamas doesn't mean your Spring Break won't involve a tropical paradise.
Although we offer incredible deals on domestic locations, our personal favorite is South Padre Island, and who could blame us? It's incredible, and we have lots of thoughts about a Spring Break on "The Island", some of which we're sure run through everyone else's mind too.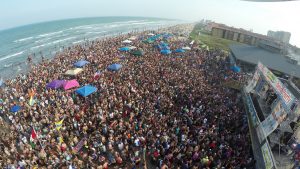 1. Wait… you're SURE we're in Texas? Why is the water so blue..
2. Is staying in my incredible beach front condo all week an option? Or no?
3. So you're telling me I get a free trip to Sea Turtle Inc. to see all of the adorable sea turtles?! or free surfing lessons?! Or a free booze cruise?!
4. I mean, I love turtles but I'm obviously going with the booze cruise… or the turtles…. well.. maybe the surfing, actually. Hmm..
5. "The largest beach bar in Texas is having free concerts during the day? Free is good.. I like free.."
6. "No. Way. Kesha is preforming March 18th?! Her lyrics are actually the story of my Spring Break on South Padre, it's meant to be.
7. "T-Pain, Kid Ink, Casey Donahew Band, DJ Skribble, Young Thug AND French Montana are going to be preforming TOO?? Say no more, I'm on my way."
8. "I think if I have one more beer I literally will BECOME the beer.."
9. "Alright guess we're shot gunning another one, let the transformation begin."
10. This. beach. party. is. INSANE.
11. "The Red Carpet VIP Package is hands down the best choice I've ever made. I mean, VIP entrance to all the parties AND a party yacht cruise, it's a no brainer."
12. "I get two dine out meals per day included? Hmm.. so what food caters to my hangover the most…"
13. Okay, today is most definitely a day of rest and relaxation on the gorgeous beach.. until the Greekoholic Pool Party, of course.
14. "How can a pool party THIS much fun?!"
15. "Wait… today's the last day? Oooh.. I actually decided to never leave the beach.. so.."