As a college student, there are many ways you can try to pick the best spring break destination for you and your friends. Below, we have a few tips about how to pick spring break.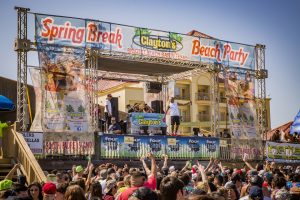 Of course as a college student the common denominator is generally price or cost, we get that. Cheap doesn't mean good, it usually just means cheap. Low cost, or a value price, that's a different deal.
Everyone is going to XYZ….that is where I want to go!
This could range from someone seeing the Kardashians in Cabo or the Dominican Republic to the richest girl in your sorority going with her parents to St. Barts on their private sailboat to the Fraternity guys you pair with a lot saying Cancun all the way! Always question what is coined black and white thinking "everyone" "no one" etc. Usually, they aren't true. Generally this means "some are going…."
If someone brings up a destination that should be your choice, as a few questions, such as:
1.) Price
• What is the per person price?
• How long is the trip?
• Is transportation included?
• Are all taxes & fees included?
• What are the onsite inclusions with that price? (watch for smoke and mirror inclusions we will talk about those in a second)
2.) Location
• How warm is the weather in March?
• Do we have to fly or can we drive?
• Do we need a passport?
• How is local safety, especially at night and particularly for girls?
• Does the hotel, condo or resort offer 24 hour a day security? Is it gated and fenced?
• Have any parents been there already to vouch for it? Do you know anyone that went there last year that liked it and can tell you more?
3.) Hassles or possibility thereof
• If flights are included, what times are flights on what days from what airports? Traveling to these departure airports with red eye flights can be a nuisance in and of itself.
• We spoke of passports, do all in your group already have them? If this trip is last minute, it's hefty $200 to $300 extra to expedite passports.
• How far is the resort or hotel from the airport once you arrive? What times are your flights out? Again, hotels check out at 11 am typically. If you don't leave say Cancun until 5 pm, means you are lobby surfing with no where to store bags or shower for 3 or 4 hours. Not fun
• How many per room or condo for that price quoted? 4 people in tiny hotel rooms is far from a 5 star vacation
• Are bag fees included or are we talking like some of the smaller airlines every carry on's carry a fee? (watch Frontier and Spirit)
4.) The resort or hotel itself
• Travel agencies and online websites typically "over state" their star rating by 1 or two stars. Did you check Trip Advisor on this hotel to get the real deal on reviews? Did you visit oyster.com to see actual hotel photos not resort photos that are filtered?
• If the property is all inclusive, how many restaurants? What times? What is the menu during those times? Is there a dress code even at the beach club or bar? This means walking for 20 mins back to your room to get some flip flops and a shirt when you were at the beach, really inconvenient and very common in Mexico.
• Again if all inclusive, what times are alcohol included, where? What is the alcohol, is it Taaka Vodka or Smirnoff? Is there an available upgrade to a Grand Section or Deluxe or Club or Premium for better food and drinks and more alcohol? We have seen many resorts offer latterly 3 classes of all inclusive -the "Gran" plan, the standard, and the "lite.' As you can imagine the quality diminishes as you decrease the plans
• If all Inclusive, is alcohol and bottled water in the room, or is it a 2 mile trek to a bar or restaurant that may not even be open at 3 am when you get back from the clubs?
• Is there a daily resort fee? In Vegas, this can run $15 to $60 per day per room.
• Does the hotel charge an additional "non refundable damage waiver" or some other nonsense at check in for students they do not charge normal guest?
5.) Your group itself
• If your group are non stop partiers, all inclusive in Mexico may be the best, or South Padre Island Texas where drinking on the beach BYOB is still legal. Places like Panama City and Gulf Shores spring break have banned alcohol on the beach!
• Do you have complainers you are very well aware of? Easy. Book the NEXT up hotel in terms of price and quality. Remember, everyone forgets if they spent $1200 or $1500 once they arrive, they just want it good to great. Haggling for that extra $300 up front will save your group tons of headaches dealing with these types onsite that will try to ruin your vacation. (they may anyway)
• With that said, what people may need to be not invited due to drama? The flirty drunk with the seriously psycho boyfriend that is going to come to the Xanax popper crying by 11 pm to the social media czar that has this fetish for snapping in opportune pics to send to people they should back home? Honestly, bring your homies and leave the fruitcakes home
• On your group, is about hanging all together in one big condo (south padre island easily tops then as huge 3 bedroom condos up to 10 per condo can fit in) or is it about everyone just being at the same resort, hotel rooms fine as ya'll don't pregame or after party muc? This matters when you choose your destination.
• For many spring break travelers, it is often about "hooking up!" (what degree to each their own). Is the guy to girl ratio ok? Spectacular? Brutal? Guys in particular may need to ask and research this before booking ManCun.
We wrote about smoke and mirror inclusions. Things like "non motorized water sports included FREE!" Well, that's a skim board that is at the front desk 1 mile from the beach you have to walk back to get it and use it. When students see "non mortorized" they delete the NON and thing Jet Skis and parasailing to a sailboat…eeeekkkk none of the above, sorry. This is a smoke and mirrors inclusion list and common on all inclusive hotel packages.
Are "happy hours" included? For many students, this means free booze – in reality it usually means a drink special not even honored without a hassle, or semi warm tap beer someplace on or off property you cannot find or at inconvenient hours when everyone is on the beach far away. This is a common so called inclusion in domestic spring break destinations like South Padre Island, Texas.
Determine what "onsite staff to assist you" means. Is this a local Mexican in Cabo that travel company's staff shirt as the "onsite staff" that barely speaks English? If they are American, are they living out of a hotel room drunk half the time hard to locate if something does actual happen you need "This assistance" for? Do they have a US phone number onsite to call if needed for parents? These are all legit questions when selecting your destination
We hope this information helps you not just select the best possible destination, but also dialing in the best spring break trip you can. If you have questions, please call us 800 821 2176 we offer friendly phone consults
Follow this link to check out our incredible spring break destination, South Padre Island!