Ahhh, the Bahamas.. is there anything more magical than crystal clear turquoise waters and white sand beaches in one of the most beautiful Spring Break destinations in the world? Doubt it. If there is, it's surely not as much fun!
Nassau, Bahamas is home to some of the most luxurious resort centers in the world, including lavish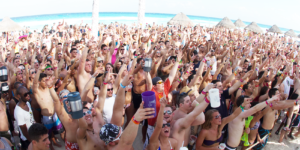 casinos, hotels and resorts that all cater to the mind set of paradise, so enjoy some time luxuriating in the exclusive things only paradise can offer you.
Not only are the Bahamas rich in extravagant resorts, but it's also where you can find secluded beaches that are the real gem. This is where you can step away from touristy spots and find a place to relax without all the commotion that can come from a beach across from the casinos, hotels, and resorts. So before you string up your hammock to drink from a coconut all day, make sure you  take a dive or a snorkel to see the incredible, colorful, underwater life.
After a day of listening to the wind and the waves, make sure you head back to Downtown Nassau to see the beautiful pastel buildings hosting great shopping markets to find nearly anything from souvenirs to glamorous jewelry. Or maybe you're more of a history buff than a shopper? The Bahamas does call upon curiosity of the later day pirates, so take a climb up Blackbeards Tower, then head over to the gardens of what once was the headquarters for Bahamian smugglers in the former Royal Victoria Hotel. Finishing the historical day off, hike the 66 step staircase, carved out of coral limestone, of the "Queen's Staircase" which is said to have provided a direct route from Fort Fincastle to Nassau City.
So let's say you've already hit the beaches, you've already had a day in historical Bahamian paradise, and now you're looking for the greatest night out ever. Well, you should most definitely start the evening off by hitting the casinos, you have a choice between The Crystal Palace at the Marriott or The Atlantis on Paradise Island.
After you've spent a considerable amount of time and money on your casino endeavors, you're primed to hit the clubs. There are two main clubs in Nassau: The Zoo Nightclub, one of the largest dance clubs playing a variety of urban music and offering 6 different bars. The next is Club Waterloo, offering five different bars and an opportunity to chill poolside while listening to their wide variety of music.
I think it's safe to say that Nassau, Bahamas is an exciting, historic, and beautiful spot for nearly any type of person. So, go ahead, get out there and see all that Nassau has to offer you!
Although this video isn't in Nassau, Bahamas, it still does a wonderful job of capturing just how wonderful a Spring Break trip to paradise with us can be!
Authored by: Cayley Brandon