As much as we love the Bahamas, Cancun, Puerto Vallarta, and all the other international destinations that we offer, we'll admit that traveling internationally can be both pricey and inconvenient. That's why we love our domestic locations just as much (if not, more). Although we offer incredible domestic locations, such as Gulf Shores, we still principally have a blast at South Padre! Why's that you ask? Well it just so happens to be that South Padre Island is our favorite because the VIP experience is one for the books.
The trip (your choice of length of stay) includes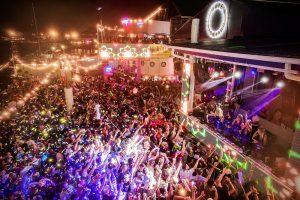 Guaranteed beach front hotel stay :
Who doesn't want to wake up, go to sleep, and live for a week all right in front of the beach?
2 dine out meals per day per person :
Yes, the trip itself is magnificent but we'll feed you as well. It's truly a dream come true.
$30 gas fill up card per room on arrival : 
Because being poor is sad, but being poor with no way to get anywhere is even worse. Enjoy the complimentary gas card in order to party all across the island. And yes, $30 is plenty to get across the island plenty of times.
Onsite discount program :
As mentioned before, being poor is sad. Therefore, we offer plenty of discounts to help you get the most bang for your buck!
Free daily entry to Clayton's Spring Break Beach Stage : 
Clayton's rocks. End of story. It's the biggest beach stage on South Padre Island and believe me, they make it just as great as it is grand.
So all of that being said, just by simply traveling with us you get some really incredible benefits. However, what if you're beyond ordinary and you're more like a VIP player? Well we can help you little special snowflakes as well.
With our VIP you receive:
Nightly parties at Louies, Tequila Sunsets, Peninsula Pool and Clayton's:
Helloooo, what's better than being at a party? Being VIP at the party, duh!
VIP separate entrance & cover charge : 
Remember how we mentioned that you're a special snowflake? Well you're so special that you even get your own entrance and cover charge!
Party yacht cruise:
You know what special people have? Yachts. You know what really special people do? Party on their yachts. So join in.
Wednesday Greek-O-Holic pool party:
The only thing that makes an epic party better is by making the epic party in a pool. Everybody loves swimsuits, drinking and poolside chaos. Join in, don't worry my special snowflakes, you won't melt.